Tonight will be our 4th class in our Beatles Series, So far we have learned Chord Melody and Tab for 3 songs . 'And I Love Her', "Here Comes The Sun" and this last week we tackled "Eleanor Rigby", WOW thats a lot. So Tonight we will get by " With A little Help from Our Friends" and Take a ride on a "Yellow Submarine". We hope you will Join us from 7-9 p.m. at String Theory Music​ 1291 NW Wall Street in Bend.Mahalo from Kamoa Ukulele Company​, Snow Dukes Ukes​ and String Theory Music. Cost for This 2 hour class is just $25 for two Hours of Fun and Learning. Hope to see you there.



I am excited about our Ukulele classes Every Thursday In March at String Theory Music 1291 nw Wall street. I Hope you will join us for the Fun from 7-9 p.m.This Thursday
( March 1st) we will be taking on The Beatles Music Hope to see you Thursday night . The Cost of These 2 hour classes is just $20 per class when you Prepay for ALL 5 ( $100 ) at the First Class, Or just $25 for a single Class. Every Class
​includes handouts and refreshments. Please Join us and Mahalo from Snow Dukes Uke's, Kamoa Ukuleles and String Theory Music
*A Basic knowledge of Uke Chords and Tablature is required. for these 5 Intermediate Classes.


---

Aloha,Some great news, Starting Thursday April 5th and Every Thursday in April I will be holding
Beginning Workshops for Chord Melody and Tablature
from 7-8:30p.m. at String Theory Music. These will be
the next step for those who have taken Beginning Ukulele 1 and Beginning 2 Ukulele at the senior center in Bend. We will cover some basic music theory as well. The cost for the one and a half hour classes is just $20 per class. If you Like to strum your ukulele but are looking to take it to the next level These classes are perfect for you. make plans now to attend as space is limited. Mahalo from Snow Dukes Uke's, String Theory Music and Kamoa Ukuleles.*there is no prerequisite for these classes.
All Kamoa Ukuleles were used in this recording and I played, Recorded and Mix/Mastered Everything. Mahalo Snow Duke. I Hope you enjoy it.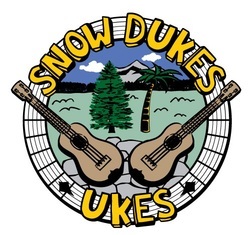 We are Central Oregon's Kamoa Ukulele Dealer. We carry Kamoa Ukuleles exclusively, and It's an honor to sell great quality Ukuleles here In our home for the last 25 years. Kamoa Ululeles are made of ALL solid wood, Top, Back and Sides, They are Kauai designed and Lifetime Warranted , and Kamoa and Snow Dukes Ukes Backs up Everything we Sell.!! Please check out our Youtube Chanel and our Facebook page. The links are at The Top of This Page . You can also email us at carlventis@snowdukesukes.com or call us 541-948-9949. For the best Snow Dukes experience please use Google Chrome as your browser. Mahalo



---